Ozashiki Game and Meet Maiko -Dance and Photo-
07/03,2019
Event
Maiko are apprentice geiko (geisha) in Kyoto.
Experience the graceful charm of maiko up close.
In this activity, you will be entertained by maiko. Enjoy a live dance performance to two songs.
After the dance performance, you can take commemorative photo session with the maiko.
She will present their own 'senjafuda' name sticker to you personally.


You can enjoy tea and sweets while waiting.

After that, you can ask questions to Maiko.




The staff will be with you, so you can enjoy chatting in English and Japanese.






From September to October, you can enjoy Ozashiki game, Konpira Funefune.




We will give you a present if you win the game.




*You can also choose the plan only for Meet Maiko.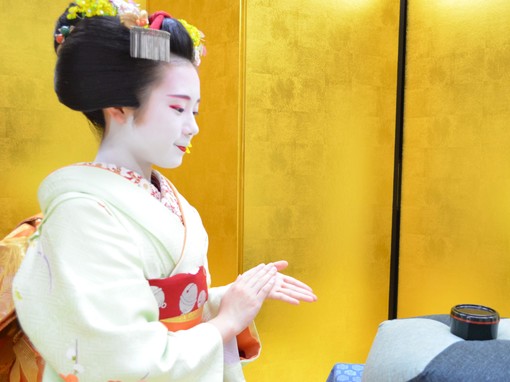 Date
25th September (Wed.)
28th October (Mon.)
29th November (Fri.)

*No other events are scheduled between September and November.
Time
Ozashiki Game and Meet Maiko
17:00-18:00
Meet Maiko
17:00-17:40

Please exchange your ticket at the information desk on the 1st floor of the Kyoto Handicraft Center west building at least 10 minutes before the show.

Price
Meet Maiko 3,800yen
Ozashiki Game and Meet Maiko 4,300yen

Contents
1.Japanese Dance Performance (2 songs)
2.Mini-talks about Maiko dress and hair
3.Japanese Tea and Sweet
4.Photo Shoot with Your Camera
5.Get a Name Card 'Senjya-Fuda
6.Enjoy Chatting with Maiko and Question Time
7.Traditional Game with Maiko(Only the guests who buy Ozashiki Game and Meet Maiko ticket)

Note
Maiko is one person.
Maiko performance is not accompanied by live music. Rather a tape, CD, etc. will be played.